Foot Lab has been associated with the Zidane Five Club since 2020.
Patrick La Spina is the designer of the teaching methodology of the ZFC football schools, in collaboration with Zinedine Zidane and David Bettoni.
INSTITUT INTERNATIONAL DE LANCY IIL
As from the start of 2022/2023 academic year, Foot Lab is launching an integrated football programme in partnership with IIL.
This new programme aims to provide students with a passion-based learning curriculum, which integrates the teaching of football at a high-level as a core component. This will include training sessions with a top-quality methodology inspired by those in the finest training centres in Europe, as well as theoritical content such as culture of football, lifestyle and health aspects.
https://www.iil.ch/en/campus-life/sports/foot-path/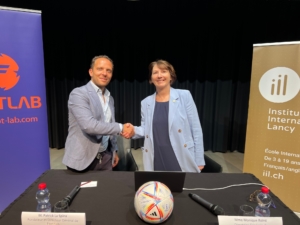 GO UP and Foot Lab have come together to collaborate on new activities for professional players and coaches, as well as support for clubs. The partnership aims to bring together the unique strengths of both organizations to create innovative programs and to increase brand awareness in France and Switzerland. 
The newly formed partnership between the two organizations specialized in individual player development will enhance and personalize the exclusive services provided to players and coaches. By joining forces, they will be able to open new markets and opportunities to further expand their reach and offer innovative, tailored and high-level programs for professional players, coaches and clubs. 
Joan Vilà is a former pro footballer who played for FC Barcelona in the 1970s. After retiring from his playing career, he coaches the FC Barcelona's grassroots teams, and in 2011 he was named Methodology director of FC Barcelona together with Francisco Seirul·lo. All his coaching career was directly influenced by Johan Cruyff and Laureano Ruiz, both were those who built the pillars of a new playing style which, later on, Pep Guardiola was able to master. Joan Vilà is internationally known for his contributions to the development of players from La Masia and his expertise is highly recognized in the soccer world, specially because of his influence of Xavi Hernandez' playing career, whom he also individually formed and advised in his beginnings as a coach.